DRONEQ PERFORMS DRONE DELIVERY ON SAILING SHIP
Following the successful pilot of a Drone Delivery on the Pioneering Spirit, the largest ship in the world of Allseas, DroneQ Aerial Services has been commissioned by Dutch Drone Delta to carry out another challenging project: delivering a package on a sailing inland container ship "Duancis". In collaboration with Airhub, Port of Rotterdam, KPN and Antea, among others, we meticulously prepared this assignment. Dutch Drone Delta is an innovative organization of collaborative companies and also this next phase in Urban Air Mobility and specifically in Drone Delivery was characterized by its innovative character.
The desire to deploy DJI's new flagship, the M300RTK drone, meant that a new payload release system and matching package had to be developed and tested. DRONExpert. Drone Delivery, in addition to SAR services and Security & Inspection, is an expertise of DroneQ that is often shaped by research, testing and knowledge sharing with professional logistics companies. The assignment of Dutch Drone Delta fits seamlessly into DroneQ's vision and strategy. DroneQ Aerial Services site Den Helder develops this expertise by participating in the Maritime Drone Initiative, part of METIP, as part of our Maritime Logistics: Drone Delivery program. Through a lot of research, testing and collaboration with professional logistics partners, this expertise is developed and used as an integral part of the entire Supply Chain end-to-end process!
The export of the contract took place on Sunday 13 September on the Nieuwe Maas in Rotterdam and was marked by challenges. There was flying in urban areas and within the controlled airspace (CTR) of Rotterdam Airport. Coordination and approval of Rotterdam Airport was therefore a requirement. On the day of the flight the weather conditions were also challenging: wind force 6-8 with showers. The fast flowing river and the limited delivery area on the "Duancis" added an added complexity. All in all a wonderful challenge which went very smoothly, thanks in part to the excellent preparation by and with all parties!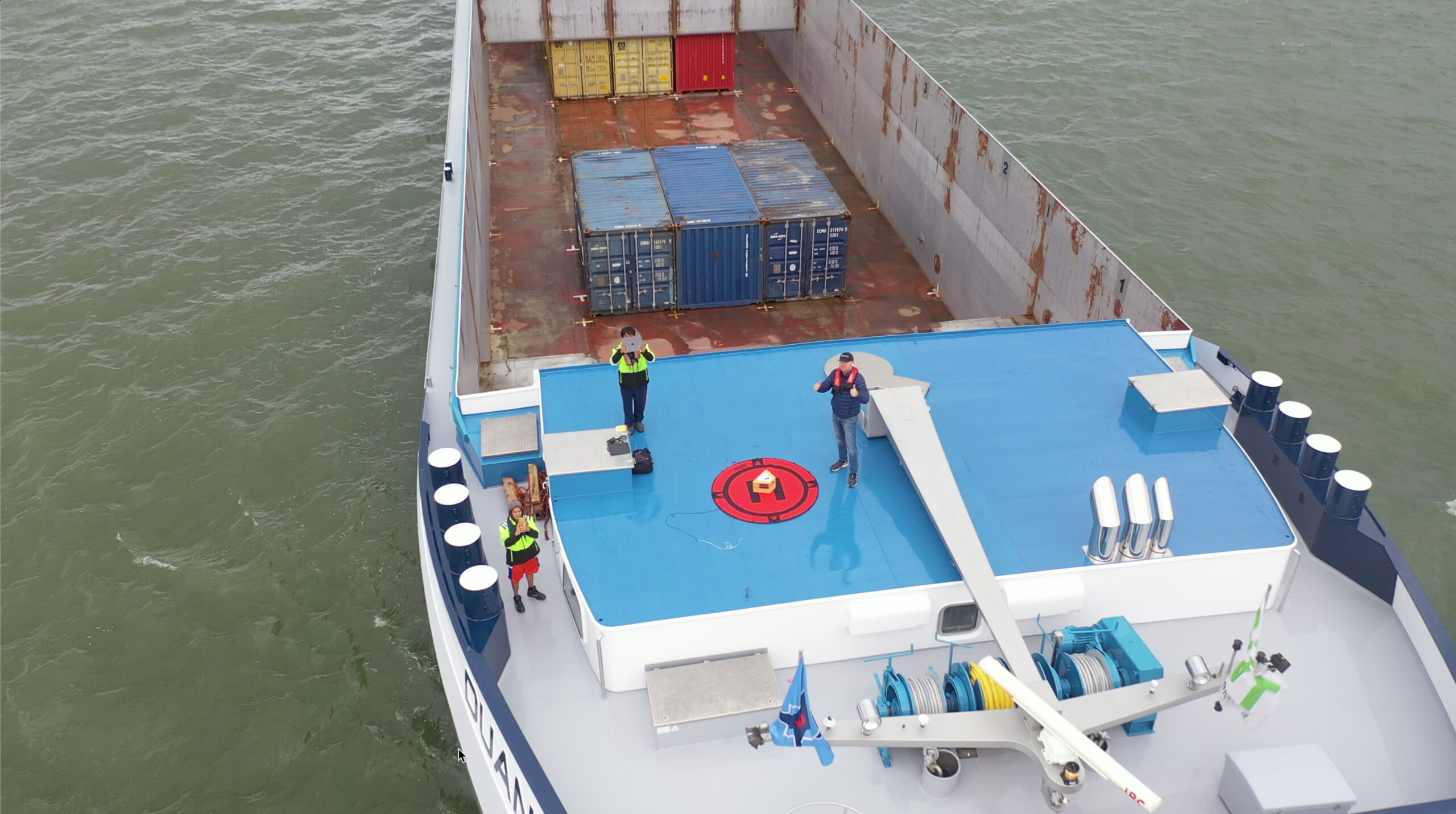 During the flight, tests were also carried out by KPN regarding the 5G network and by Antea with regard to the sound. Another great result and we are already looking forward to the next challenge!
For more information see Port of Rotterdam and watch the video: Port of Rotterdam News and Press Releases