DRONE DELIVERY
Drone Delivery is the transport of goods by specialized UAS (drones) to support the supply chain process. The character of this type of freight transport is high priority – high value freight transport to and from important destinations on land (such as hospitals) and port areas and maritime destinations such as (Wadden) islands, ships and offshore energy installations such as production platforms and offshore wind farms. Distances up to 120km with 10kg of cargo are already possible.
In addition to reducing costs, increasing efficiency and safety, the use of specialized drones contributes to improving the CO2 footprint. The use of UAS for these intensive logistics operations actively contributes to the achievement of the agreements regarding the climate agreement.
LONG DISTANCE CARGO DRONE NETWORK
Together with partners
AirHub
and
Phoenix-WIngs GmbH,
the Long Distance Cargo Drone Delivery program has been set up.
The challenges are characterized by long distances up to 200km with 50kg of cargo in general and maritime conditions and in the context of laws and regulations in particular.
Long Distance Cargo Drone Delivery strives for the highest possible level of autonomy, with a maximum level of safety and economic feasibility in mind. Many new innovations will be needed from the programme to achieve these goals.
INCIDENT RESPONSE & SECURITY
Incident Response consists of carrying out SAR missions, monitoring incidents and disasters at sea and on land, monitoring environmental incidents, monitoring beach, coastal and waterways and investigating incident locations.
DroneQ works together with the emergency services in scientific and technical research to optimally support the emergency services.
Drone Security is performing security tasks via specialized UAS (drones). The character of this type of drone operations is the proactive and reactive execution of drone flights of onshore objects such as port and industrial sites and beaches, dunes, waterways and offshore objects such as production platforms and wind farms.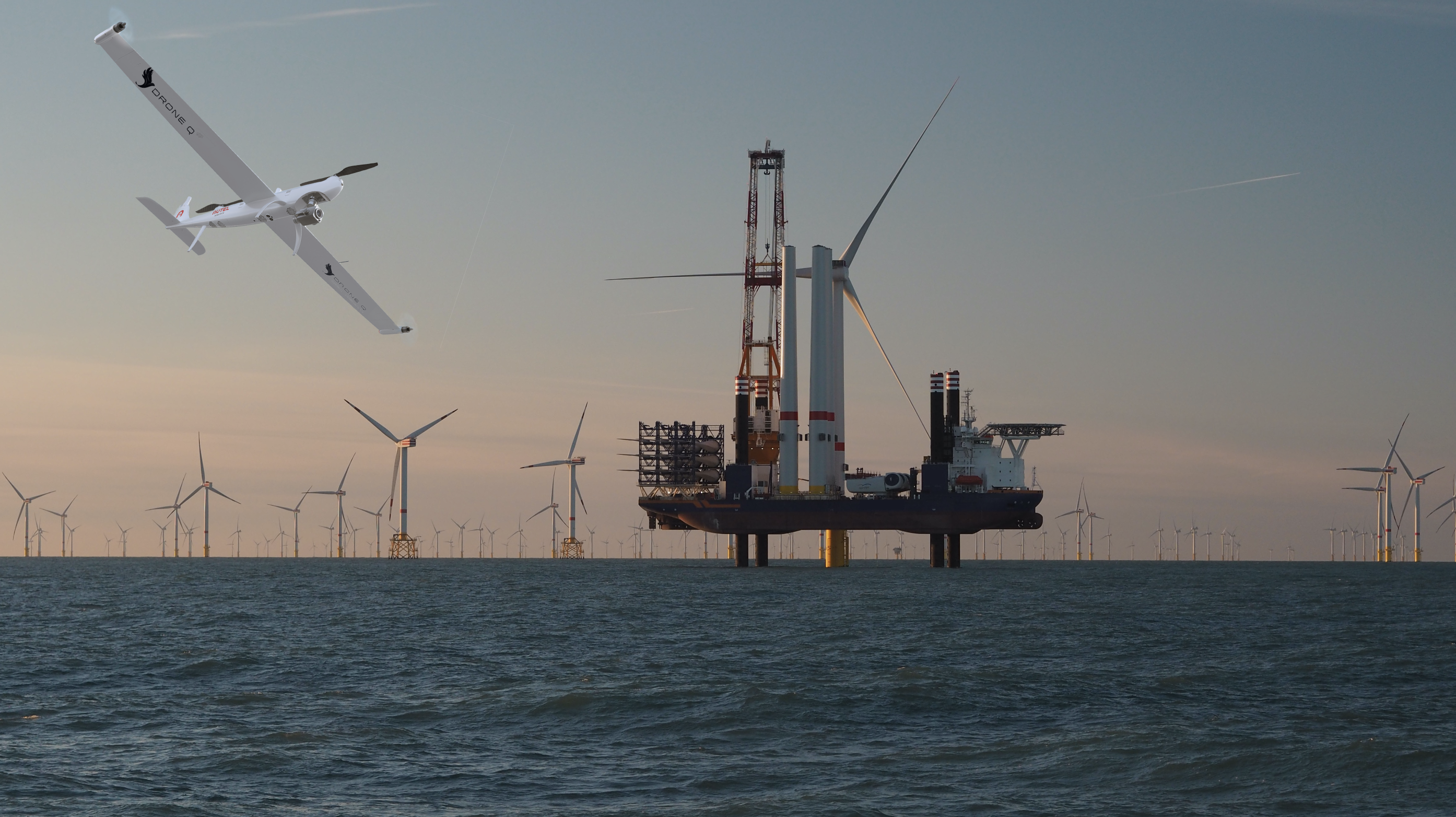 AERIAL INSPECTION
DroneQ Inspection Program where specialized industrial drones are used for high-resolution visual, video and lidar inspections. High resolution 2D and 3D Mapping (cartography) and photo and film recordings, volume and height measurements and stock measurements.
Areas of application include industrial installations such as electricity plants, petrochemicals, offshore installations, onshore and offshore wind turbines, pipelines and cables, high-voltage towers, telecom installations, construction structures, construction work such as bridges and buildings.
Inspections for asset lifecycle management such as regular inspection programs for pre-maintenance applications can be integrated into the operational processes of customers.
DRONEQ ROBOTICS
Hofplein 20
3032 AC  Rotterdam
Netherlands
Tel. +31 88 64 65 000
info@droneq.nl
DRONEQ ROBOTICS Ltd.
KEYWORTH
22 Nottingham Road
Keyworth, Nottinghamshire
NG12 5FD 
United Kingdom
ROBOTICS OPERATIONS CENTER
Den Helder
Willemsoord 51
1781 AS Den Helder (NH) 
Netherlands
ROBOTICS OPERATIONS CENTER
Eemshaven
Schildweg 16
9979 XR Eemshaven
Netherlands