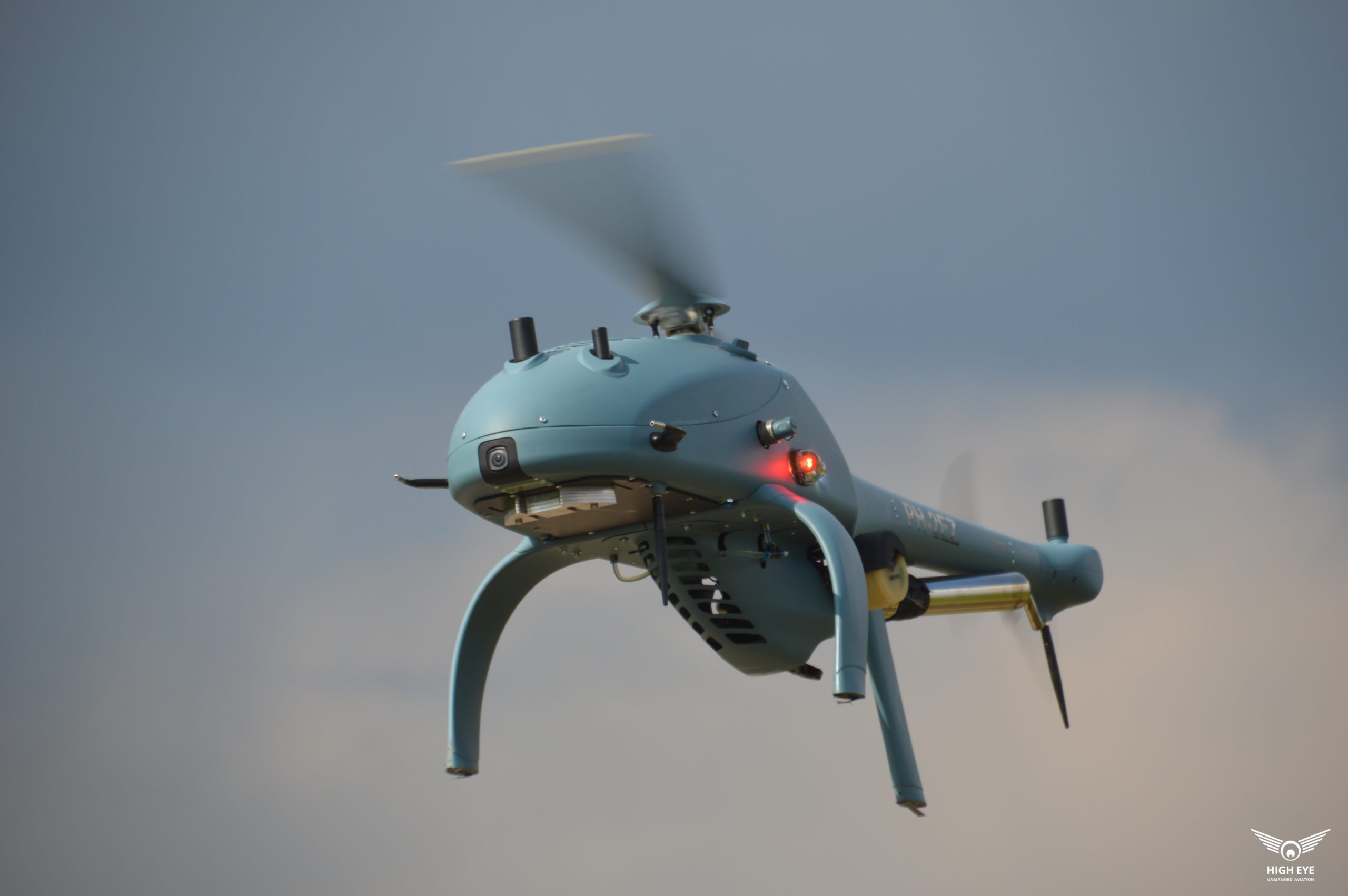 Drone Operations specialist DroneQ and Unmanned Helicopter Systems specialist High Eye enter into a partnership.
The individual vision and strategy of the companies concerned, the drive and passion for the field and culture within both companies have led to the creation of a future fixed partnership in order to combine expertise, experience and understand which leads to a higher quality of service for customers.
High Eye is a beautifully dynamic Dutch company that designs, builds and sells unmanned helicopters. After 6 years of hard work, this has led to an absolutely top model unmanned helicopter for military and civilian applications, the Airboxer. This long range VTOL UAV has a flight time of more than 3 hours and is all weather proof. The Airboxer is designed to be deployed for a wide range of missions, both maritime applications such as coastguard and police tasks, as well as inspections, traffic control, mapping, surveys and situation monitoring with live feed from high resolution images up to date a distance of 50 km. A robust and reliable all-rounder for the demanding user.
DroneQ is a drone operations specialist and has set up an ISO ready Drone Operation Center and Maritime Drone Command Center from which a multitude of different drone operations are prepared, performed and managed. In addition to conducting drone operations for customers, DroneQ also has the experience and expertise to design and implement this state-of-the-art Drone Operations Center in customer operational processes.
The unique combination of both companies and the specific expertises, the operational UAV processes and the unique features and qualities of the Airboxer enables the most complex and demanding drone operations for customers !
In addition to possibly carrying out missions, DroneQ Aerial Services will also offer support services such as Repair & Maintenance as a further processing, distribution and security of the data. In this way, the integral process of preparing missions up to and including delivering the relevant data can be delivered to the right persons. To deliver UAV equipment for specific projects, DroneQ base will work closely with High Eye to serve the customer optimally.
More information:
High Eye – contact Joost de Ruiter: joostderuiter@higheye.com
DroneQ Aerial Services – contact John Troch: john@droneq.nl