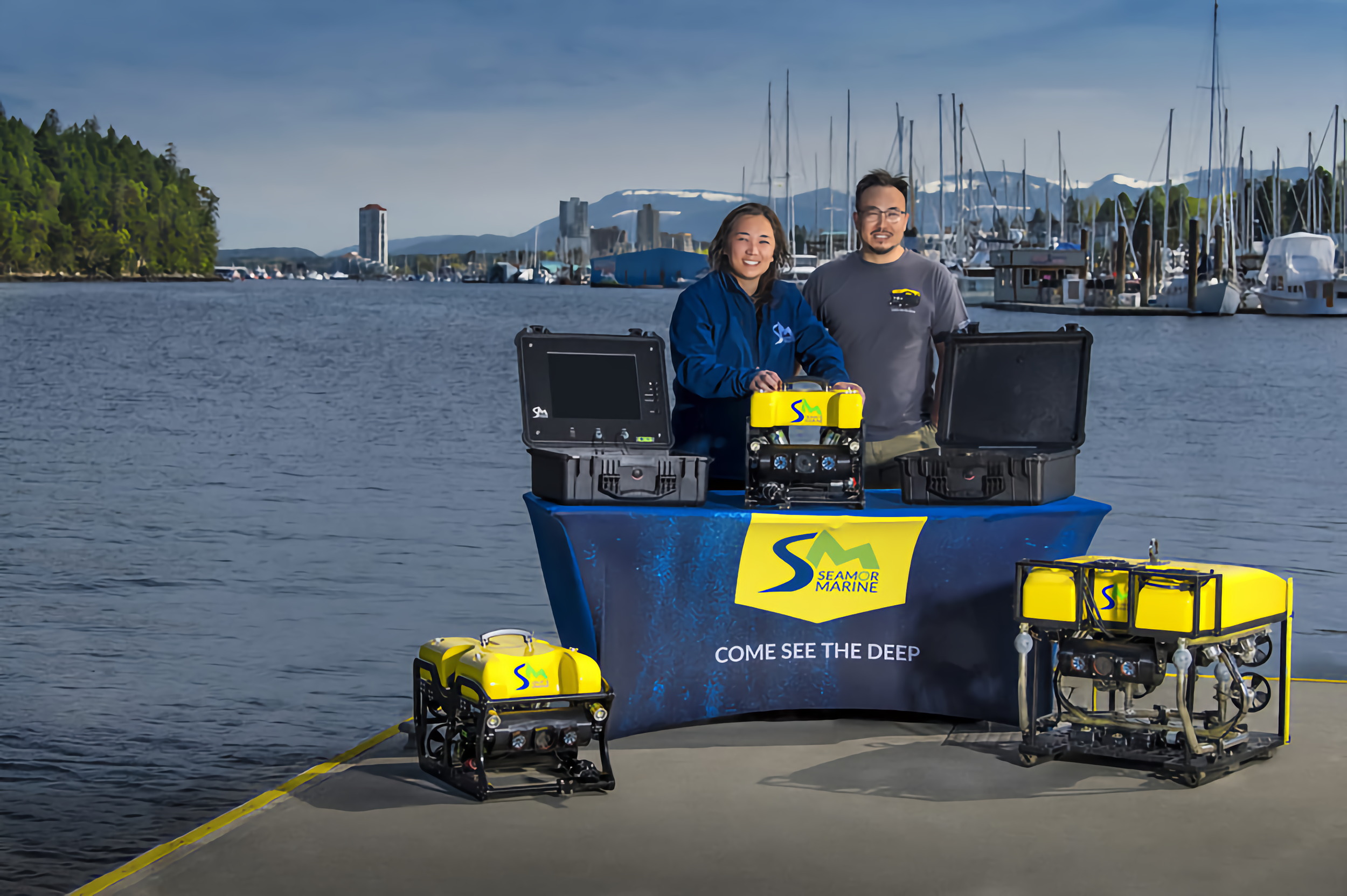 The Dutch DroneQ Robotics the Canadian ROV manufacturer SEAMOR Marine sign a partnership!
DroneQ Robotics is an Unmanned Technology Systems Operator and Integrator, which today focuses on the application of drones and ROVs (subsea robotics), with the main focus on offshore energy, industry and port services.
DroneQ Robotics' mission is to contribute to emission reduction, cost reduction and increase efficiency and safety through the development, innovation and deployment of unmanned technology and pursuit of autonomy. DroneQ Robotics has a strong focus on working with like-minded experts in their own field and works closely together on solutions to help organizations meet their challenges, both strategically and operationally. The DroneQ Robotics Operations and the Development &Innovation projects for both drones and ROVs include the building blocks People, Process & Technology and DroneQ Robotics continuously monitors the market to optimize the DroneQ Robotics building blocks.
John Troch: "Sharing vision and ambitions between DroneQ Robotics and SEAMOR Marine has led to a mutual conclusion that we share the same values, the same ambitions and the same drive to pursue the highest level of quality. We have established the existence of a solid basis for long-term cooperation. By joining forces, we can make a difference together and make the future today!"
COVERAGE
The partnership covers three main areas:
ROV Operations – deploying seamor marine advanced ROV technology to deliver high quality DroneQ Robotics subsea services to customers
ROV Development & Innovation projects – collaboration in demand-driven underwater robotics Development & Innovation projects to address customer challenges
Dealership – DroneQ Robotics has been appointed official Dealer for SEAMOR Marine and brings their ROV solutions to the North Sea region in general and the Netherlands, Belgium and Germany in particular, with possibilities to operate outside this region as well
BENEFITS
The collaboration between DroneQ Robotics and SEAMOR Marine brings the many benefits for customers:
Cost-effective operations: optimal balance between quality of subsea services such as inspections and light work:

Similar or better inspection capabilities and light work tasks of the SEAMOR Marine ROVs compared to the large Work Class ROVs
Modular design of ROVs that enable customization options for specific customer needs and minimize necessary maintenance
Flexible use of services through multiple deployment possibilities: from fast deployment to long-term projects
Smaller ROV teams needed to perform ROV operations
Limited ROV Launch and Recovery infrastructure needed to enable significantly shortened ROV mobilization and demobilization times
Depth range of 600m and 22.5kg payload capacity provides a versatile and flexible ROV platform for visual, sonar and video inspections, cathodic protection inspections, wall thickness measurements, surveying, high pressure Jet cleaning, manipulator tasks and more

Benefit from DroneQ Robotics 20 years of experience in Inspection Services and maritime Disaster &Incident Response
Benefit from more than 15 years of experience in designing, building and maintaining ROV systems by SEAMOR Marine
Benefit from the collaboration of DroneQ Robotics and SEAMOR Marine in unmanned technology Development &Innovation
Take advantage of the extensive network of organizations and businesses to realize the needs and requirements of customers
Choice of options for customers to purchase ROV services and/or SEAMOR Marine solutions, with the possibility to integrate both the services and the products into their own operational processes
INFORMATION
Curious how the services and solutions of DroneQ Robotics and SEAMOR Marine can help your organization? Send your question to:
DroneQ Robotics
John Troch
SEAMOR Marine
Robin Gang Li